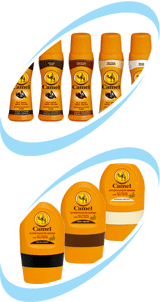 Camel, a brand with great experience in the shoe care category, is the market leader by offering a complete product range of specialized products for more than 80years.
Nowadays, Camel product range includes:
Classic and self-shine pastes.
Self-shine Liquids, for classic and suede leathers.
Shampoos for athletic and textile shoes.
Self-shine sponges for classic leathers.
Fat for oil leathers.
Brush & Shine kit, which is composed of 2 practical brushes for dyeing and shining.
In 2009, Camel enriched its product range by launching the New Camel Self-Shine Cream. The new self-shine cream dyes, protects and nourishes leather shoes. It protects leather shoes efficiently from rain and pollution due to its advanced composition and the use of Nanotechnology.
Feel comfortable and enjoy every step with Camel!